Testimonials
"I first found out about Bethany on a podcast.  I was so impressed that I signed up for her aromatherapy classes.  It has only been a month and I am totally blown away with all the info she presents.  All info is easy to understand and at your fingertips when YOUR ready to review.  Thanks so much Bethany."
Marion Giannantonio
"Bethany introduced me to essential oils and I have been so impressed with her wealth of knowledge.  Her website and membership site is a huge resource to anyone interested in using essential oils, but unsure about how to get started the right way and to maximize their benefits."  
Julie Fry, Buisness Among Mom's
Response to a webinar/class:
"Wow, Bethany, this is really good!  I love how you have put it together and your handout is excellent.  Great graphics and great presentation.  Thanks for sending it along.  I've got some new ideas!"
Leslie Sharkey, Windermere Real Estate
 "Bethany has a real great knack for putting together oils that can help with a variety of ailments. I love how she is always coming up with something new. Even though she is great for adults too, I especially like that she has a lot of expertise working with families and kids. She is a great resource and I would definitely trust her with many of my issues using essential oils!
Patty Swiatly, Coaching for the Soul & Chakradance Facilitator, Chicago, IL"
"I found Bethany on My 7 Chakra Podcast with AJ and I was intrigued. I ordered the Chakra essential oil set and I love it! When I don't wear them, I feel a difference in my mood and overall being. I like that their small enough to carry around with you in a purse or pocket. Essential oils have been around for centuries,this isn't anything new, just to the people who are now being introduced to them and living their life's purpose. Bethany is a kind soul and answers any questions you may have."
Tek Hanssen
"Bethany Williamson is The People's Aromatherapist. She is a highly-trained professional with a wealth of professional and personal knowledge about using essential oils to enhance wellness, both physical and emotional. She has a heart for talking to women and families about making life easier and more vibrant, by combining oils and a new mindset (which process is facilitated by the use of essential oils!) I highly recommend Bethany."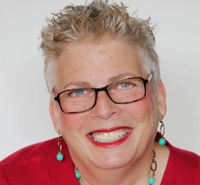 Yafa Crane Luria
Blocked to Brilliant: Resources & Relief for ADHD Families